The Complete Guide To Starting A Teaching Career in 2017
THE A-Z GUIDE
Teaching is one of the most fun and noble careers one could have. They have the power to influence and touch students' lives profoundly.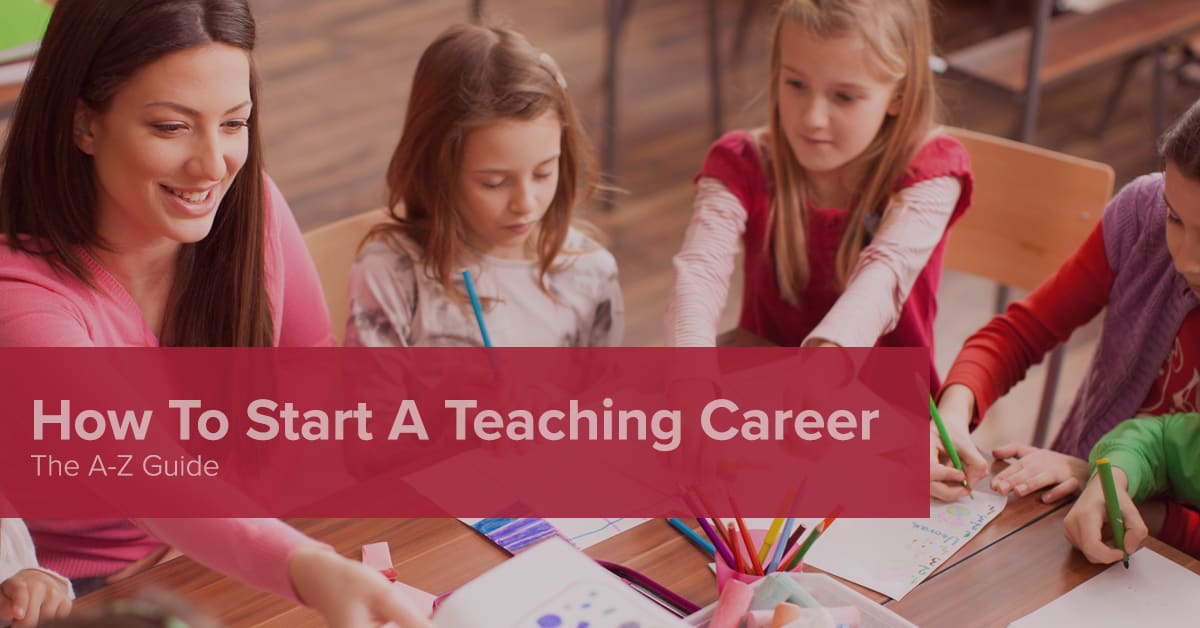 In this guide you'll learn why teachers are more important than ever and how to start your teaching career.
Why Start A Teaching Career?
In the United States, the demand for teachers is skyrocketing. For instance, in California alone, teacher vacancies currently clocks at over 14,000 positions. According to reports, the figures are set to grow in the forthcoming school years. Considering this, experts see a noticeable increase, with 19% in the post-secondary department and 17% for preschool.
With more job openings in specific subject areas, there is no question that the country needs better teachers. Teachers with specialization in particular subject areas such as ESL, STEM, and special education needs are in high demand. Wondering where to practice your teaching career? See teacher shortage statistics for top five states below.
Top States Affected by Teacher Shortage Crisis
Teaching delivers multiple virtuous benefits, but shortage remains an adamant issue in both public and private educational facilities. To date, statistics report critical levels of teacher shortage in the following states:
14,521

California

8,005

Texas

6,381

Illinois

6,189

New York

5708

Florida
Most Attractive States To Teach In
The US offers staggering number of job opportunities for teachers. As a matter of fact, multiple locations show immense attractiveness rating, a data that's evaluated based on a number of key factors such as compensation, working conditions,  qualifications, and turnover. According to the Learning Policy Institute, these are the top 5 states that offer the most advantages for potential educators.
Teacher Attractiveness Rating
5 = Highest, 1 = Least
4.09 

Oregon

4.00 

Wyoming

3.82 

South Dakota

3.67 

California

3.67 

Arkansas
Teacher Shortage Areas
Teacher shortage area or TSA is defined as an area of specific grade, subject matter or discipline classification, or a geographic area in which the Secretary determines that there is an inadequate supply of elementary or secondary school teachers.
Percentage of States With Shortages in the Following Area
84%

Special Education

78%

Math

75%

Science

57%

Reading / Language Arts

51%

Foreign Language
How Long Does It Take?
The length of time to become a full-fledge educator varies depending on your preference and area of focus. However, there are common rules that apply to all, such as getting a Bachelor of Arts or a Bachelor of Science degree beforehand. Through the years, teacher education requirements have changed dramatically in each individual state. While no two states have equal requirements, these are common routes you can choose from when considering a career in teaching.
Bachelor's Degree
Earned through college or university, completion of this degree usually takes four years of regular schooling. School needs to be accredited by National Council for Accreditation of Teacher Education.
An increasing number of states approve Alternative Certification programs to certify new teacher candidates that already have a Bachelor's Degree in a subject other than education. Alt-Cert education programs like Teachers of Tomorrow enable career changers to enter the teaching profession, providing quality preparation and support.  This route is often the most streamlined affordable pathway to a career in education.
Four-year Route
It is possible for an aspiring teacher to teach early childhood education after finishing a four-year course. However, it might be different for one looking to teach in high school. In addition to a bachelor degree, you will need to sign up for a teacher certification and teacher education program to get required on-the-job hours.
Five-year Route
A majority of states allow you to teach students at high school or middle school once you obtain a four-year degree, a subject endorsement, hours, and teaching certificate of completion. However, this can vary depending on the rules per state. To get an endorsement, you may have to add another semester or a few more classes to your existing units. It will likely take you five years if you're changing major subjects or getting your certification after finishing a bachelor's degree.
Six-year Route
If your state of practice requires teachers of high school and middle school to get a master's degree, getting that certificate will take you one to two years more. Some degree holders earn this while student teaching. This route seems to take a lot of time; however, you might like to reconsider if you want to get more freedom on choosing subjects to teach, higher compensation, and better opportunities when landing a job.
Steps To Become A Teacher

Considering a teaching career? Take note of these steps.
Step 1: Secure a bachelor's degree.
This typically involves completion of a major in the subject area you wish to focus on, along with a minor in education. An enrollment in a teacher education preparation program is also acceptable. Regardless of the choice, students generally complete mentorship or student-teaching subsequent to completion of bachelor's degree.
Career hint:
Internship, student teaching, tutoring, and teaching certification programs are great means to gain field experience in teaching. Future school teachers should consider being in one of these education programs to better understand the craft and to fill their resumes, which is highly valuable when job-hunting after graduation.
Step 2:Complete your teacher training.
Once you're done with a four-year degree, the next thing to pay attention to are the requirements and exams that's necessary to earn teaching credentials. These vary depending on location, but in general, students take a basic skills exam, along with an exam for the subject they wish to teach. The test scores, college or university transcripts, teaching program certificates, federal background checks, and complete application form should be submitted altogether to the State Board of Education.
Career hint:
Join a quality Alternative Certification program once eligible, as they can guide you through your state's specific process. You may find it difficult to locate and understand all the requirements or take advantage of all necessary resources without professional guidance.
Step 3: Development resources
are also great tools to gain additional teaching strategies and skills. Along with keeping up with the latest technology in education, you can use these sources to improve as a professional in the field.
Step 4: Get ahead by pursuing a voluntary certification.
According to the Bureau of Labor Statistics, earning additional credentials can help you get ahead when obtaining a teaching career. These certification programs, often offered by the National Board for Professional Teaching Standards, offer advanced teacher education credentials and certificates in various fields including mathematics, science, library media, health, physical education and others.
The next sections will introduce you to the top universities, subject areas, and certification requirements, along with compensation expectations for school teacher hopefuls.
Bachelor's Degree
Complete all required coursework and requirements for obtaining a four year Bachelor's degree in Education, or you concentration of choice with a minor in Education, from any accredited college or university.
Choose Your Subject Area
When choosing a teacher's course, having a subject area in mind is crucial. At the moment, these are the most sought-after jobs you might consider venturing on.
English as Second Language (ESL)
Many non-English speaking students come to the US to learn English. School teachers are needed by these students so as to know how to speak and write the language fluently. Educators also help them adopt into a new campus and classroom. Aspiring teachers with college degree and multi-lingual abilities have higher chances of getting a career in education. Some of the common foreign language skills needed in US schools are Spanish, French, German, Latin, and the list goes on.
Science, Technology, Engineering, and Math (STEM)
Involving prerequisite subjects such as information technology, statistics, physics, chemistry, biology, and geology, the need for teachers with concentration in these subject areas is exceedingly high. The reason is that, more and more teachers are choosing private sector schools, which allow them to earn twice the salary. Still, STEM teachers have plenty of career opportunities and are considered a valuable necessity in this field.
Special Needs Education
This refers to the special education needed by children with disabilities, including those with mild autism, dyslexia, ADD/ADHD, and sufferers of intellectual incapacity. By getting a course in this subject area, you should expect a lot of teaching openings because most positions go vacant every year. Not only physical schools, but also online academies launch dozens of opportunities each school year.
Early Childhood Education
It's very common for parents to change careers when their children become school-aged. There's definitely a demand for early childhood education jobs ranging from preschool to early elementary school. This is where educators teach children to be lifelong learners.
Learn Your State's Certification Process

A teacher needs to meet certification and licensing requirements in order to jumpstart their teaching career. While requirements vary by state, these are the general teacher training prerequisites to date.
Eligibility
Complete a 4-year Bachelor's Degree with a GPA of at least 2.5.
Teacher Preparation Program
Typically includes master's degree, undergraduate, or other alternative teaching programs.
State or National Certification
The certificate is issued to teachers who have completed all requirements.
Certification & Licensing Requirements Per State
Study For Your Teacher Certification Exams
One of the basic requirements for state teacher is passing a standardized test. These exams, used by majority of US Public Schools, aim to measure a teacher's knowledge and skills. Each individual state has their own standards, therefore, the requirements may vary per state. For instance, if you passed the New York State Teacher Certification Examinations in New York and you want to teach in California, you will also need to ace California Basic Education Skills Test.
These tests are extensively used for teacher certification.
National Evaluation Series
This is a computer based examination that tests the qualification and skills of potential educators. NES is managed by the personal development organization Pearson and covers a comprehensive range of academic subjects including ESL, Math, English, and technological skills. Since standards and requirements vary, check with your state's Board Of Education to know which test is for you. Keep in mind that not all states accredit the NES.
Praxis Series
Currently used by over 40 states in the US, the Praxis Series is given by the Educational Testing Service. The test measures a teacher's knowledge and skills to know if they are eligible for certification or licensing. The state sets varying passing scores and may or may not require taking of all Praxis tests, which comprise of the following:

Praxis Core Academic Skills for Educator Tests
Includes three separate sections – reading, writing, and mathematics
Praxis Subject Assessments
Includes Principles of Learning Tests and Subject Assessments
Getting Your First Teaching Job
The job market for teachers may be hard to crack, but nothing is impossible for someone with solid determination. To land on that first teaching gig, follow these steps.
Prepare your portfolio.
This is extremely essential especially if you don't have much experience to tackle with the interviewer. Get your transcripts, Praxis results, certifications, student-teaching certificates, impeccable lesson plans, and just about anything that could boost your eligibility. Make sure your portfolio is perfect because how it appears tells a lot of things about you.
Exhaust all your means.
Start each job-hunt day with a "stay focused and proactive" attitude.  This includes using all media for searching jobs including your personal network, government employment agencies, and social media, primarily Facebook and Twitter. Many employment companies, online and office-based, send recent job announcements in your news feed. Submit a completed application with every school district within your commute radius, and proactively follow up with these districts by phone.  District recruiters have shared it is a strong strategy to resubmit a new application every 2-3 months.  Don't be overly-selective about the districts you wish to teach at during your first year.  Getting your first position and excelling in the classroom are key to opening more doors
Be a substitute teacher.
Doing this lets you demonstrate your teaching skills and network with fellow teachers and administrators at the same time. Until you're hired as a regular teacher, you're likely going to be paid per day or per shift basis. That said, the work can be pretty inconsistent and lack the benefits. However, you can do research on health insurance choices – you may find a plan that fits your current employment status.
Maximize your qualifications.
For instance, teachers with certifications on subject areas are more marketable than those who do not have one. More so if you're able to earn more than one. Not certified yet? Certain academies offer free or discounted courses for professionals. For graduates, you can sign up to gain more credits needed for dual certification.
Keep an eye on regions where teachers are in-demand.
Many regions in the US are in urgent need of teachers specializing in different subject areas. Mississippi, for one, opens 2,000 vacancies at scheduled times per year. Other states are aggressively recruiting teachers in the past few years. To see which regions are actively hiring, refer to the Teacher Shortage Areas Nationwide Listing.
Get an A on your interviews.
Interview is the first crucial step in getting that teaching post. This is why preparing ahead is extremely imperative. The first thing to keep in mind when listed for an interview is to relax. If you show up too nervous to speak with the principal or hiring panel, they might think you won't be able to handle yourself when faced with a classroom full of noisy students. Make sure you're knowledgeable about the school you're considering. You can also make yourself familiar with the community where the school is located.
What to Expect From Your Teaching Career


While teaching is not a "million-dollar" endeavor, it's important to know how much money it can add to your wallet. Salary rates and schedules differ from one district to another, however, most states follow a general format.
Teacher Salaries
According to Bureau of Labor Statistics, the average salary of teachers per year is $55,000 approximately. 10% of teachers in the US get $36,930 annually, while other 10% earn as much as $85,690 per year. Difference in salaries are affected by variety of factors, including location, years of experience, educational attainment, and type of school.
Highest paying US schools are located in these areas, sorted from highest to lowest.
New York
Alaska
New Jersey
Rhode Island
Massachusetts
Average Teacher Pensions Per State
Based on statistics in the past 10 years, there are the average pension that newly retired teachers receive per state.
Source: Teacherpensions.org
Graph above shows average pension for newly retired teachers from 2006-2015. However, amounts presented here may not reflect the actual amount that retirees earn, which depends on years in service, qualifications, location, and contributions.
Important note: In order to qualify for a state pension, a teacher has to meet minimum service requirements, ranging from 5-10 years. The figures above aim to show the average pension new retirees get at retirement, including only the teachers that qualify for pension.
Teacher Retirement Resources
10 Things a Retired Teacher Wants You to Know by Jessica McFadden
How to Excel at Teaching

Teaching and making a difference in students' lives is rewarding on its own. But, it is more rewarding if you're able to improve professionally and conceptualize teaching strategies for more effective teaching. So how exactly do you upgrade yourself as a teacher? Read on.
Develop Your Teaching Philosophy
A teaching philosophy defines what you want to become in terms of learning and teaching. This written statement should discuss your how you intend to apply your beliefs by stating concrete examples of what you're doing or planning to do inside the classroom. Why is this necessary? To achieve personal and professional growth.
When writing your very own teaching philosophy statement, take into account the following guidelines.
Keep the length to only 1-2 pages.
Use first person point of view, personal tone, and present tense.
Make it easy to read by not using ambiguous technical terms.
Clearly state your strategies, homework, and classroom activities so the reader will know exactly how it feels like to be in your class.
If you're writing a philosophy to earn a job, do your best to make the statement stand out. Creatively emphasize your commitment and tough decisions you have made in the name of teaching.
Enumerate your teaching background accurately. Avoid generic sentences such as, "Students should do this in order to reach success". Also mention that you're willing to be flexible when the need arise.
Things to write in your teaching philosophy
Your idea of teaching
Your idea of learning
Your aspirations for students
How you intend to implement your philosophy
Effective Teaching Strategies
New teachers can make use of certain strategies to make teaching more valuable. Five of these strategies are:
Practicing clarity.
When teaching new lessons, a good teacher begins by explaining the purpose and goals of learning it. They should demonstrate examples or models so students can figure out how the outcome really looks like.
Inducing class discussion.
An efficient teacher often steps up and mitigates classroom discussion. This way, students can interact and learn from one another. It's also an ideal way to assess how well students are grasping new ideas and knowledge.
Providing student/teacher feedback.
Giving individual or group feedback is an excellent method to know how students are coping up with new educational concepts. Written or verbal, it pays to provide comments and keep them altogether in writing to monitor student's growth. Teachers must also allow students to do the same.
Doing systematic student assessments.
In order to come up with accurate student feedback, teachers need to spend sizable amount of time creating systematic assessments. Evaluations should be done in a routine or regular basis.
Doing/teaching metacognition.
During this process, students have the liberty to conceptualize, organize, ease their way to learning, and evaluate their own work down the road. By letting students take responsibility of their thoughts and learning, student ownership heightens. The good news is, metacognition can be taught to students of all levels.
Having in-depth knowledge of subject area.
Creating excellent curricula starts with a teacher whose specialization is correct for the field in question. By having complete knowledge of your area of focus, you'll easily answer student questions and craft an effective lesson plan for them.
Using strong verbal and written communication skills.
Whether creating lesson plans, drafting exams, doing classroom discussion, or speaking to parents or colleagues, adept communication skills is key. When in doubt, pay close attention to this aspect and work on improvement. Surely, you'd be a great and effective teacher once successful.
Have Fun Teaching!
There's nothing more fulfilling than having awesome classroom fun. Here's how to do it:
Explore new things with students.
Learning is much more fun when both teacher and students learn mutually. So drop down your authoritative side when appropriate, and join in the learning journey with them.
Add a hint of mystery.
Children love surprises, and this also applies inside the classroom. To make discussions more exciting, do not spill the information right away. Swathe it in mystery instead. Start with an intriguing detail and then ask questions. Your students will surely love it.
Show care and goofiness.
Sometimes, it's okay to sacrifice authority if it means making your students happy and more enthusiastic. Bundled with authentic care from you, children will feel better knowing that their teacher is someone they can rely on and be funny with.
Take part in projects.
Think of this as a workshop where the leader plays a role with the team. Step down from your level, be part of the activity, and you'll discover how your students get more focused and engaged with the task at hand.
Stop being monotonous.
Doing the same thing every single day is dull and boring – your students feel this. Break the monotony by exerting extra efforts, taking risks, trying new things, make mistakes and learn from them, and live each teaching day with positivity.
Review past class materials.
Integrating old materials with new ones is another great way to alleviate boredom. Go deeper into past lessons to see if any information is missed. Spend about a couple of hours for this to enhance students' memory and learning.
Talk about your passion.
Sometimes, passion can be really contagious. Spend some time sharing passion with your students. Tell them a scenario where you had great fun doing something you're passionate about. For sure, your students will inherit the same passion as you.
Have a good laugh with jokes in class.
Being a teacher doesn't mean only you have the right to share your sense of humor, your students can, too! Let them share funny stories and have a good laugh about it. This way, you'll enjoy one another.
Forget lectures. Say hello to conversations.
Teaching doesn't have to be passive at all times. Most students find lectures repetitive and boring, that's why you have to channel boredom into something more exciting. Speak to your students like you would with a good friend. Exchange thoughts and ask questions in such a way that you're not the only one that does the responding.
Know your body language.
As the cliché goes, actions speak louder than words. This also applies when in a classroom discussion. According to experts, there is an ideal pace to move around the room, head position to let them the students know they got your attention, and manner to speak to students. Simply put, think of teaching as a performance where you have to be aware of yourself.
Be confident.
People who have high confidence and positive energy tend to attract more attention and respect. The same can be said to teachers. Express your passion in teaching by showing that you're enjoying what you do. Nurture your inner self while nurturing your relationship with your students – they sure will have a great time as much as you do.
Picture yourself as a student again.
Your students will take it as a challenge if you sit as a student for a day and you let one or two of them to discuss in place of you.
Don't take teaching conflicts too seriously.
Teaching and learning can be stressful to both teachers and students. Some students may take more than one courses, and may need to balance work with studies. Teachers, on the other hands, have various responsibilities that do not stop with teaching or making lesson plans. This is the reason why you shouldn't be too hard on yourself when things are not working like you expected. Things happen, but they pass so understand, empathize, and carry on.